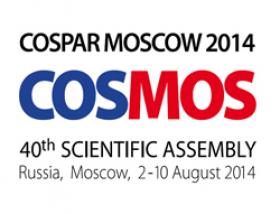 The final program of the 40th COSPAR Scientific Assembly is now set. More than two thousand experts in space research and exploration will gather in Moscow in August for the 40th Scientific Assembly organized by the Committee on Space Research (COSPAR). The Assembly's program includes more than 4 000 talks and posters, nine interdisciplinary lectures, a round table dedicated to exoplanets, and a special talk to be given by Viktor Sadovnichy, rector of Lomonosov Moscow State University which is the venue for the meeting.
COSPAR Assemblies, covering virtually every topic in space research and exploration, are the most representative scientific meetings in this field and constitute 'snapshots' of current activities and results in space science.
To be more precise, the Assembly program for the year 2014 will include over 2700 oral and 1500 poster presentations, with participants coming from more than 60 countries. Topics for discussions span all science done from space from astrophysics and solar system research to space biology and medical experiments onboard the International Space Station. A special feature is a program for secondary school teachers, part of COSPAR's tradition of disseminating space results among those who train future scientists. Besides special lectures on hot topics of recent space research, the program includes a variety of discussions and visits to space industry organizations and related museums.
The Assembly starts on 2 August and lasts nine days, until 10 August. In all, more than 2500 scientists and students are expected. The Assembly is hosted by Lomonosov Moscow State University.
***
COSPAR, short for Committee on Space Research, was established in 1958 by the International Council of Scientific Unions (ICSU), now the International Council for Science. COSPAR's objectives are to promote on an international level scientific research in space, with emphasis on the exchange of results, information and opinions, and to provide a forum, open to all scientists, for the discussion of problems that may affect scientific space research. COSPAR's first Space Science Symposium was organized in Nice in January 1960. In 1970, the thirteenth Scientific Assembly of COSPAR was held in Leningrad, than in the USSR. The 40th COSPAR Scientific Assembly in Moscow is supported by the Administration of the President of the Russian Federation, the Federal Space Agency of the Russian Federation, the Ministry of Education and Science of the Russian Federation, the Russian Academy of Sciences, and the Moscow City Government. Arkady Dvorkovich, Deputy Chair of the Government of the Russian Federation, heads the National Organizing Committee.